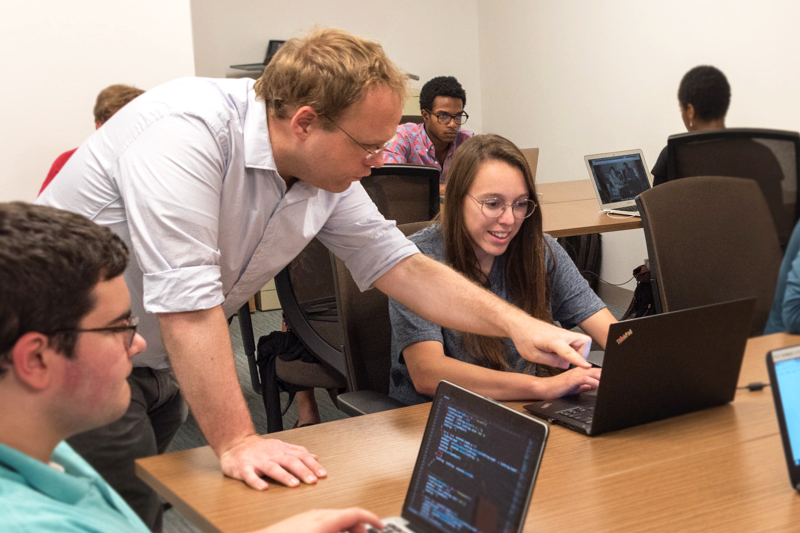 The Price Lab and the wider DH community at Penn are mourning the death of our dear friend and invaluable colleague, Scott Enderle. Scott was the lead programmer and project manager at the Price Lab since 2015. But his connections and friendships on our campus date back much further. He came to Penn as a graduate student in the English department in 2003, after receiving his bachelor's degree at Texas A&M. Under the direction of Michael Gamer, he wrote a dissertation on the rise of the novel, the emergence of copyright law, and debates over the origin and communication of ideas in 18th century Britain. He received his Ph.D. in 2011, leaving Penn to accept a position as assistant professor of English at Skidmore College, but returned four years later as our Digital Humanities Specialist, a newly created position in the Library and the Price Lab, funded by the Mellon Foundation.  

As the University's first DH Specialist, Scott played a major role in shaping both the research program and the curriculum in digital humanities at Penn. His depth of historical knowledge, evident in publications such as his 2016 essay on copyright law in PMLA, made him an important resource for scholars in the History of Material Texts group and the English department as well as in the Price Lab. Some of the research projects he developed include the English Playbills project with Michael Gamer, the Star Wars Fan Engagement Meter with Peter Decherney and James Fiumara, the Shakespeare Census with Zachary Lesser,  and the Mining Goodreads project with Jim English. But he had a guiding hand in nearly every DH project that focused on the history of the book or involved techniques of text mining, machine learning, or data visualization.  

Scott made a point of including undergraduate students on all his project teams, helping them to become confident practitioners of data-driven humanities research. Over the years, he mentored dozens of students in addition to the many he taught in classrooms. As the English department's Lecturer in Digital Humanities, he developed the University's introductory course in programming for the humanities, and was one of the principal architects of the DH Minor program in the College of Arts and Sciences. His ability to explain complex matters of quantitative analysis and visualization to humanists was a boon to his faculty collaborators as well as his students. At team meetings in the Price Lab, he was often drawing on the white board with a marker pen, miraculously bringing clarity and simplicity to the most difficult concepts. Indeed, Scott was the great teacher to all of us at the Price Lab: unfailingly patient, empathetic, gentle, and good-humored. What we learned from him will continue to guide much of what we do for years to come. We count ourselves immeasurably fortunate to have been his colleagues.