Digital Humanities Minor
ABOUT THE PROGRAM
The Undergraduate Minor in Digital Humanities is offered by the School of Arts and Sciences at the University of Pennsylvania. It has been designed for students who want to augment their disciplinary studies in the humanities or humanistic social sciences with advanced digital research techniques and in-depth engagement with theoretical, political, and practical questions raised by digital technologies.  Students from outside the humanities are also welcome to enroll in the DH minor, e.g. to add a humanities dimension to a mostly science-and-tech curriculum.
"Digital Humanities" is more of an umbrella term for a diverse range of scholarly practices than a stable, coherent field. The minor in digital humanities reflects that diversity by bringing together coursework from across the university and by allowing for multiple pathways through the program.  It is a very flexible minor that draws on faculty from many departments of the School of Arts and Sciences as well as other schools of the University and encourages students to enroll in courses outside of their major. Students minoring in digital humanities will have the opportunity to learn valuable programing and data management skills, to explore topics such as digital text analysis, digital mapping, 3D modeling, and the use of digital tools for collecting, organizing and studying material culture. Course work will also expose students to debates about the social effects of digital technologies and require them to attend lectures, workshops and other relevant events at Penn and around Philadelphia.
PURPOSE
Once a small corner of the humanities, Digital Humanities has exerted a notable influence on literary studies, history, cultural studies, archaeology and anthropology, and has radically changed the way that many scholars conduct research and share work. As humanities fields evolve to incorporate digital tools and methods, an increasing number of scholars are finding it necessary to expand their digital understanding. While students may be able to learn specific tools and methods on their own or through their coursework, the purpose of the DH minor is to offer them a systematic program of study as well as an official credential to recognize their work and training.  Students who successfully complete the requirements of the minor will develop the insight to be both thoughtful users of technology and sophisticated critics of digital work.
STRUCTURE
The Digital Humanities Minor will take 6 courses total and the sequence has is designed to guide students through three tiers of courses that begin very broad and then narrow in focus.
The first tier is the broadest and is intended to make sure students understand the basics of Digital Humanities. There are two required courses in Tier 1: Introduction to Digital Humanities (ENGL 1650) and one qualifying introduction to programing course. The School of Arts and sciences regularly offers Data Science for the Humanities (ENGL 1670) which has been designed to fulfil the programing requirement. However students may also count one of the introduction to programing courses offered by Engineering (such as CIS 1100). Skills and context learned in these courses will be used and built upon in subsequent courses.
In the second tier, students will choose at least 1 but not more than 3 classes that will help them focus on specific methodologies. The assumption is that students will want to dive a bit deeper into those specific trajectories within digital humanities that are most applicable to their own research interests. Courses in this tier will allow them to gain practical skills in a hands-on, project based environment.
While the first two tiers are focused on skill building, the third tier of courses gives students opportunities to use the skills they have learned to conduct original research. Students will take at least one but no more than three Tier 3 courses. Courses with significant digital content will be pre-approved for the minor. However, students may also work with their instructors to develop alternative digital projects or even independent studies. The goal at this level is for students to practice integrating digital humanities practice into academic work in non-trivial and critical ways.
BENEFITS
The Digital Humanities Minor has been designed to enhance the research profile of participating students and to give them the skills needed to participate more effectively in contemporary disciplinary and interdisciplinary scholarly debates. Furthermore, participation in the minor will help students develop valuable skills that may be utilized in a variety of professional settings both in and out of academia.
COURSES OFFERED FALL 2022
Tier 1
Introduction to Digital Humanities
ENGL 1650, HIST 0870, COML 1650
Trettien

This course provides an introduction to foundational skills common in digital humanities (DH). It covers a range of new technologies and methods and will empower scholars in literary studies and across humanities disciplines to take advantage of established and emerging digital research tools. Students will learn basic coding techniques that will enable them to work with a range data including literary texts and utilize techniques such as text mining, network analysis, and other computational approaches. See the English Department's website at www.english.upenn.edu for a description of the current offerings.
Tier 2
Intro to Digital Archaeology
CLST 3307, ANTH 3307, NELC 3950
Herrmann

Students in this course will be exposed to the broad spectrum of digital approaches in archaeology with an emphasis on fieldwork, through a survey of current literature and applied learning opportunities that focus on African American mortuary landscapes of greater Philadelphia. As an Academically Based Community Service (ABCS) course, we will work with stakeholders from cemetery companies, historic preservation advocacy groups, and members of the African Methodist Episcopal Church to collect data from three field sites. We will then use these data to reconstruct the original plans, untangle site taphonomy, and assess our results for each site. Our results will be examined within the broader constellation of threatened and lost African American burial grounds and our interpretations will be shared with community stakeholders using digital storytelling techniques. This course can count toward the minor in Digital Humanities, minor in Archaeological Science and the Graduate Certificate in Archaeological Science.

Virtual Bodies, Virtual Worlds
ENGL 0766
Licastro

This is a critical and creative seminar in which we will read major literary works about virtual worlds while creatively interpreting those works using Extended Reality (XR) tools and methods. Is the divide between human and machine - virtual and reality - becoming harder to maintain? From the Golem of folk tales to Frankenstein and even Alexa, the concept of the semi-artificial person, or cyborg, is long-lived, appearing across popular, religious, and scientific imaginations. As technology becomes more personal, the cyborg becomes less alien, and the prospect of our own transformation into technologically enhanced organisms seems imminent. At the same time, we occupy and engage with spaces that are rendered electronically, and our experience of the world is mediated through digital technology. How do these technologies – such as video conferencing, social media networks, ARGs, and Extend Reality (XR) immersions – change the way we experience and construct narrative? In this course we will investigate posthumanism through a critical look at cybernetics and XR in our culture, examining representations in media such as literature, film, television, advertising, video games, and comics. Critiques will be framed through the lens of gender, race, and labor using the theory of scholars such as Judith Butler, Donna Haraway, and Lennard Davis. Readings will include fiction such as Marge Piercy's He She, and It, E.M. Forster's The Machine Stops, and Jennifer Haley's The Nether which will be paired with films such as The Stepford Wives and shows such as "Black Mirror." Students will also experience and critique examples of XR immersions inspired by works of literary fiction. With support from the library, including workshops in WIC, Vitale Media Lab, the Education Commons, and BioMed, students will conceive and produce hybrid creative-critical projects that remix the literature as an XR immersion. These projects will be collaborative, and include research, creative writing (narrative), storyboarding, and prototyping with XR tools. No previous knowledge of AR/VR or experience is necessary.
Tier 3
Fakes, Forgeries and Forensics in Digital Media
ENGL 2665, CIMS 2665
Scheyder

Fake images on social media are just one of the latest examples of fabrications and modifications that have taken media into dubious territory throughout history. This course will analyze the history of fakes and forgeries and consider whether they devalue the original or not, or even have value in themselves. Along the way, students will learn how fakes and forgeries have been created, what tools can be used to counter the onslaught of illicit creations, and the arts and humanities debates that have arisen surrounding them. After evaluating the ways various media have been modified over time, this course will show students how to use photo manipulation tools to modify digital media. It will also show students how to perform various detailed analyses of digital media to determine their legitimacy. A final project will bring these tools together, as groups of students create a fake or forgery, consider its implications and evaluate a tool's ability to detect it.

Digital Platforms, Power, and Policy
COMM 2991
Popiel

From Amazon to Uber, digital platforms play an increasingly central role in our society, including as public spheres, as political tools, as sources of entertainment and news, and as sites of commerce. At the same time, companies that operate these services face growing public scrutiny—the so-called "techlash"—for spreading hate speech and misinformation, undermining user privacy, algorithmic discrimination, exploiting workers, abusing their market power, and environmental destruction. The goal of this course is to provide clarity to the flurry of debates about platforms by critically examining: a) characteristics and definitions of platforms; b) their socio-political and economic influence; and c) the growing list of policy proposals to address that influence, including platforms' own policy initiatives. Drawing on news reports, policy proposals, scholarly research, and our own engagement with platform tools, we'll learn to describe, assess, and critique platforms' power, to evaluate policy interventions, and to draft our own solutions.

Art, Design and Digital Culture
DSGN 0010
Staff

This course is an introduction to the fundamental perception, representation, aesthetics, and design that shape today's visual culture. It addresses the way artists and designers create images; design with analog and digital tools; communicate, exchange, and express meaning over a broad range of media; and find their voices within the fabric of contemporary art, design, and visual culture. Emphasis is placed on building an extended form of visual literacy by studying and making images using a variety of representation techniques; learning to organize and structure two-dimenstional and three-dimensional space, and designing with time-based and procedural media. Students learn to develop an individual style of idea-generation, experimentation, iteration, and critique as part of their creative and critical responses to visual culture. If you need assistance registering for a closed section, please email the department at fnarug@design.upenn.edu

Participatory Community Media, 1970-Present
AFRC 3932, ARTH 3931, GSWS 3931, ENGL 2970, COML 3931, CIMS 3931, ARTH 6931
Redrobe and Massiah

What would it mean to understand the history of American cinema through the lens of participatory community media, collectively-made films made by and for specific communities to address personal, social and political needs using a range of affordable technologies and platforms, including 16mm film, Portapak, video, cable access television, satellite, digital video, mobile phones, social media, and drones? What methodologies do participatory community media makers employ, and how might those methods challenge and transform the methods used for cinema and media scholarship? How would such an approach to filmmaking challenge our understanding of terms like "authorship," "amateur," "exhibition," "distribution," "venue," "completion," "criticism," "documentary," "performance," "narrative," "community," and "success"? How might we understand these U.S.-based works within a more expansive set of transnational conversations about the transformational capacities of collective media practices? This course will address these and other questions through a deep engagement with the films that make up the national traveling exhibition curated by Louis Massiah and Patricia R. Zimmerman, We Tell: Fifty Years of Participatory Community Media, which foregrounds six major themes: Body Publics (public health and sexualities); Collaborative Knowledges (intergenerational dialogue); Environments of Race and Place (immigration, migration, and racial identities unique to specific environments); States of Violence (war and the American criminal justice system); Turf (gentrification, homelessness, housing, and urban space); and Wages of Work (job opportunities, occupations, wages, unemployment, and underemployment). As part of that engagement, we will study the history of a series of Community Media Centers from around the U.S., including Philadelphia's own Scribe Video Center, founded in 1982 by Louis Massiah, this course's co-instructor. This is an undergraduate seminar, but it also available to graduate students in the form of group-guided independent studies. The course requirements include: weekly screenings, readings, and seminar discussions with class members and visiting practitioners, and completing both short assignments and a longer research paper.

Television and New Media
ARTH 1070
Decherney / Staff

How and when do media become digital? What does digitization afford and what is lost as television and cinema become digitized? As lots of things around us turn digital, have we started telling stories, sharing experiences, and replaying memories differently? What has happened to television and life after New Media ? How have television audiences been transformed by algorithmic cultures of Netflix and Hulu? How have (social) media transformed socialities as ephemeral snaps and swiped intimacies become part of the "new" digital/phone cultures? This is an introductory survey course and we discuss a wide variety of media technologies and phenomena that include: cloud computing, Internet of Things, trolls, distribution platforms, optical fiber cables, surveillance tactics, social media, and race in cyberspace. We also examine emerging mobile phone cultures in the Global South and the environmental impact of digitization. Course activities include Tumblr blog posts and Instagram curations. The final project could take the form of either a critical essay (of 2000 words) or a media project.

Feminism and the Internet
COMM 3360
Lingel

From the earliest message boards and email chains, the internet has given people a way to connect, not just digitally but sexually. Porn, online dating, sex education: digital technology has made it easier for people to find each other and explore sexuality, but these same tools have also been used in relationships that are exploitative and criminal. In this course, we look at the different connections between sex, gender, queerness and the internet: changing policies regulating sex (like FOSTA and SESTA), the platforms that have created controversies around sex (for example, craigslist, tumblr and Grindr) and shifting norms around how sex and sexuality manifest online. This is an interdisciplinary course that brings together internet studies, queer theory, and cultural studies in order to understand the social and historical dimensions of sex, sexuality and digital technologies.

Futures for All: Reimagining social equality through art and technology
DSGN 3060
Liu

How can art become a form of activism? How does design shape social equality? This course investigates how technological media shape culture and society, and how artists and designers can actively reshape these dynamics through art and design. We will engage in the practice of "speculative design", and tactical design using various digital tools to envision different futures, reflecting on social, political, and ethical implications of various technologies. Exploring the relationship between digital and physical realities, students will utilize their skills in art and design while applying them to critical social discourse and activism. Students will also develop skills in active reading, critical analysis, and scholarly writing.

The Jewish Book from Scroll to Screen
HIST 2605
JWST 2605
Staff

Through much of their history, Jews have been known as a "people of the book" and have, often, prided themselves on such an association. The very definition of a book, what books contained, and who might use them are not so easy to define, and their study opens up new ways to think about the Jewish past. Books are perhaps the most important way people share ideas and change minds. But they are also commercial goods, collectors' items, community memories, and cherished heirlooms. This course offers a cultural history of communication and knowledge in Jewish experience through an exploration of the history of the book. It will use primary sources, scholarly articles, and hands-on encounters with books in different shapes and sizes to explore the way people of the past engaged with books both texts and material objects. It will also offer examples of new methods in the study of the book drawn from the digital humanities. Tracing changing conceptions and uses of the book from the ancient world until the present, we will consider the way that books have shaped religion, caused upheaval, and changed over time, even to face their possible obsolescence in our own age.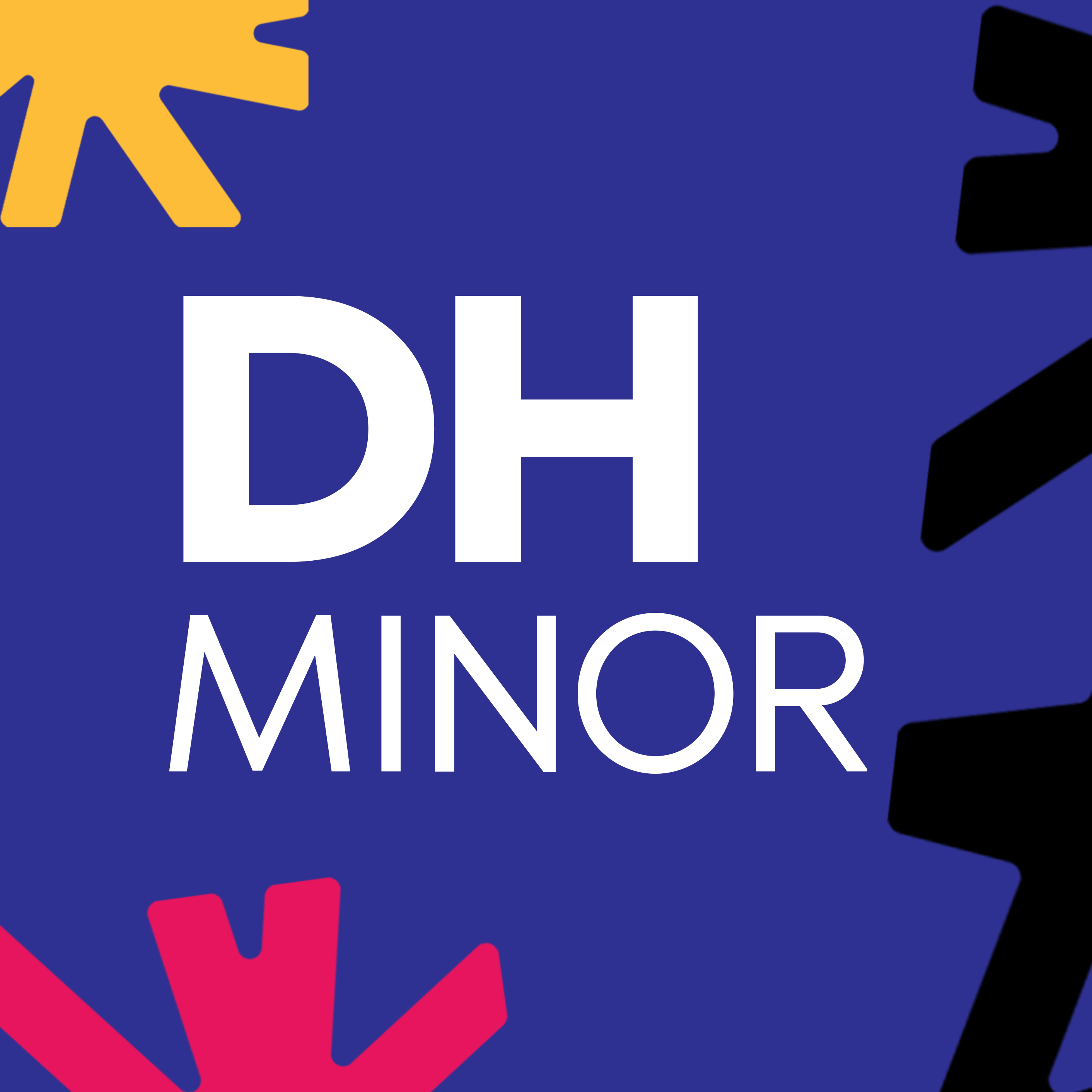 ---
The Digital Humanities Minor is directed by Stewart Varner in consultation with the Executive Committee of the Price Lab for Digital Humanities. Dr. Varner will also serve as the designated advisor for students interested in the program as well as those who have declared it. Please contact us to declare the DH Minor.

---
More information in the Penn Undergraduate Catalog and College of Arts and Sciences.