Digital Humanities Undergraduate Minor
ABOUT THE PROGRAM
The Undergraduate Minor in Digital Humanities is offered by the School of Arts and Sciences at the University of Pennsylvania. It has been designed for students who want to augment their disciplinary studies in the humanities or humanistic social sciences with advanced digital research techniques and in-depth engagement with theoretical, political, and practical questions raised by digital technologies.  Students from outside the humanities are also welcome to enroll in the DH minor, e.g. to add a humanities dimension to a mostly science-and-tech curriculum.
"Digital Humanities" is more of an umbrella term for a diverse range of scholarly practices than a stable, coherent field. The minor in digital humanities reflects that diversity by bringing together coursework from across the university and by allowing for multiple pathways through the program.  It is a very flexible minor that draws on faculty from many departments of the School of Arts and Sciences as well as other schools of the University and encourages students to enroll in courses outside of their major. Students minoring in digital humanities will have the opportunity to learn valuable programing and data management skills, to explore topics such as digital text analysis, digital mapping, 3D modeling, and the use of digital tools for collecting, organizing and studying material culture. Course work will also expose students to debates about the social effects of digital technologies and require them to attend lectures, workshops and other relevant events at Penn and around Philadelphia.
PURPOSE
Once a small corner of the humanities, Digital Humanities has exerted a notable influence on literary studies, history, cultural studies, archaeology and anthropology, and has radically changed the way that many scholars conduct research and share work. As humanities fields evolve to incorporate digital tools and methods, an increasing number of scholars are finding it necessary to expand their digital understanding. While students may be able to learn specific tools and methods on their own or through their coursework, the purpose of the DH minor is to offer them a systematic program of study as well as an official credential to recognize their work and training.  Students who successfully complete the requirements of the minor will develop the insight to be both thoughtful users of technology and sophisticated critics of digital work.
STRUCTURE
The Digital Humanities Minor will take 6 courses total and the sequence has is designed to guide students through three tiers of courses that begin very broad and then narrow in focus.
The first tier is the broadest and is intended to make sure students understand the basics of Digital Humanities. There are two required courses in Tier 1: Introduction to Digital Humanities (ENGL 1650) and one qualifying introduction to programing course. The School of Arts and sciences regularly offers Data Science for the Humanities (ENGL 1670) which has been designed to fulfil the programing requirement. However students may also count one of the introduction to programing courses offered by Engineering (such as CIS 1100). Skills and context learned in these courses will be used and built upon in subsequent courses.
In the second tier, students will choose at least one but not more than three classes that will help them focus on specific methodologies. The assumption is that students will want to dive a bit deeper into those specific trajectories within digital humanities that are most applicable to their own research interests. Courses in this tier will allow them to gain practical skills in a hands-on, project based environment.
While the first two tiers are focused on skill building, the third tier of courses gives students opportunities to use the skills they have learned to conduct original research. Students will take at least one but no more than three Tier 3 courses. Courses with significant digital content will be pre-approved for the minor. However, students may also work with their instructors to develop alternative digital projects or even independent studies. The goal at this level is for students to practice integrating digital humanities practice into academic work in non-trivial and critical ways.
BENEFITS
The Digital Humanities Minor has been designed to enhance the research profile of participating students and to give them the skills needed to participate more effectively in contemporary disciplinary and interdisciplinary scholarly debates. Furthermore, participation in the minor will help students develop valuable skills that may be utilized in a variety of professional settings both in and out of academia.
COURSES OFFERED SPRING 2023
 Tier 1

Data Science and the Humanities
ENGL 1670

This course will provide you with a practical introduction to data-driven inquiry in the humanities, with a focus on statistical analysis in the Python programming language. (No prior knowledge of programming is required or expected). See the English Department's website at www.english.upenn.edu for a description of the current offerings.

Tier 2

The Material Past in a Digital World
ANTH 1303
CLST 1303
ARTH 0127
HIST 0871

The material remains of the human past -objects and spaces- provide tangible evidence of past people's lives. Today's information technologies improve our ability to document, study, and present these materials. But what does it mean to deal with material evidence in a virtual context? In this class, students will learn basic digital methods for studying the past while working with objects, including those in the collections of the Penn Museum. This class will teach relational database design and 3D object modeling. As we learn about acquiring and managing data, we will gain valuable experience in the evaluation and use of digital tools. The digital humanities are a platform both for learning the basic digital literacy students need to succeed in today's world and for discussing the human consequences of these new technologies and data. We will discuss information technology's impact on the study and presentation of the past, including topics such as public participation in archaeological projects, educational technologies in museum galleries, and the issues raised by digitizing and disseminating historic texts and objects. Finally, we will touch on technology's role in the preservation of the past in today's turbulent world. No prior technical experience is required, but we hope students will share an enthusiasm for the past.

Art, Design and Digital Culture
DSGN 0010

This course is an introduction to the fundamental perception, representation, aesthetics, and design that shape today's visual culture. It addresses the way artists and designers create images; design with analog and digital tools; communicate, exchange, and express meaning over a broad range of media; and find their voices within the fabric of contemporary art, design, and visual culture. Emphasis is placed on building an extended form of visual literacy by studying and making images using a variety of representation techniques; learning to organize and structure two-dimenstional and three-dimensional space, and designing with time-based and procedural media. Students learn to develop an individual style of idea-generation, experimentation, iteration, and critique as part of their creative and critical responses to visual culture. If you need assistance registering for a closed section, please email the department at fnarug@design.upenn.edu

Digital Infrastructures & Platforms
CIMS 2953
ENGL 2953

Platforms ranging from ride-hailing and food delivery apps (Uber and Swiggy) to subscription based audiovisual content providers (Netflix and SonyLIV) mediate multisided transactions (markets) and operate based on algorithmic collection, circulation, and monetization of user data. In this course, we will engage with a variety of readings about multi-situated study of apps, paying attention to both app interfaces as well as their connection to backend systems and infrastructures like content delivery networks and software development kits. In what ways do processes of data storage/distribution, content encryption/decryption and encoding/decoding make "seamless" streaming on Hulu/Prime Video and instantaneous digital payments on Venmo and PayTM possible? We will begin with how infrastructures have been studied in the past, and then in particular focus on media infrastructures such as satellite systems, optical fiber cables, cell antennas, and data centers. The course readings will consider the varied definitions of platforms and examine the socio-political effects of the proliferation of platforms in different regions of the world. In studying superapps and platforms like WeChat (China), LINE (Japan), and Jio (India), we will try to comprehend in what ways have discourses of platformization been shaped by governmental regulation, cultural practices, and socio-politics of regions. We will explore questions like: in what ways are infrastructures and apps related? How do content creators and SVoD audiences navigate algorithmic opacity? Why do BigTech companies float competing discourses about platforms? What are the connections between infrastructural investments and platform capitalism? What does it mean to have digital lives in a platform society? In what ways do digital infrastructures and platforms create the foundations for smart cities and Internet of Things? Course assignments include a final research paper (2000 words) as well as project-based case studies of platform companies and socio-material assessments of infrastructures.

Tier 3
Food in the Islamic Middle East: History, Memory, Identity
NELC 0620
CRN 10965

In the tenth century, a scholar named Ibn Sayyar al-Warraq produced an Arabic manuscript called Kitab al-Tabikh (The Book of Cooking). This volume, which compiled and discussed the recipes of eighth- and ninth-century Islamic rulers (caliphs) and their courts in Iraq, represents the oldest known surviving cookbook of the Arab-Islamic world. Many more such cookbooks followed; in their day they represented an important literary genre among cultured elites. As one food historian recently noted, there are more cookbooks in Arabic from before 1400 than in the rest of the worlds languages put together. Ibn Sayyars cookbook can help us to think about the historical and cultural d ynamics of food. In this class, we will focus on the Middle East across the sweep of the Islamic era, into the modern period, and until the present day, although many of the readings will consider the study of food in other places (including the contemporary United States) for comparative insights. The class will use the historical study of food and foodways as a lens for examining subjects that relate to a wide array of fields and interests. These subjects include economics, agricultural and environmental studies, anthropology, literature, religion, and public health. With regard to the modern era, the course will pay close attention to the consequences of food for shaping memories and identities including religious, ethnic, national, and gender-based identities particularly among people who have dispersed or otherwise migrated. It will also focus considerably on the politics of food, that is, on the place of food in power relations. Among the questions we will debate are these: How does food reflect, shape, or inform history? By approaching the study of Middle Eastern cultures through food, what new or different things can we see? What is the field of food studies, and what can it offer to scholars? What is food writing as a literary form, and what methodological and conceptual challenges face those who undertake it?

Free State Slavery and Bound Labor Research Seminar
AFRC 3174
HIST 3174

This seminar invites students to do original research into the stories of Black refugees – including escaped, kidnapped, sojourning, and other temporary or permanent residents of Pennsylvania. Their stories unfolded through contentious freedom suits, daring escapes on the Underground Railroad, newspaper wars, gun fights and thuggery, treason cases, and more. We have assembled an archive of statutes, legal cases, testimony, judicial and administrative decisions, newspaper stories, images, memoirs, maps, and more to help students get started with their research. In addition, students will have opportunities to pursue additional research at the Historical Society of Pennsylvania, a co-sponsor of this course. Many of these materials have never been the subject of sustained study or placed in their historical context. Students will choose their topics in consultation with the professors and will produce research reports in written or digital or cinematic formats. Students are expected to contribute to the course website, a platform that will be available to the public as well as to the Penn community, and we aim to provide new information and venues for research. The course therefore will involve considerations of how best to convey what we learn, as well as explorations of historical methods and collaborating archives.

Paris during the German Occupation and its Places of [Non-]Memory
FREN 2250

In this course, we will explore the dark years that characterized the Occupation of France by Nazi Germany and the Collaboration between the two countries supported by the Vichy Regime.A course to explore a past that none of us has directly lived. And not just any past. A repressed, masked, disguised past. A past inhabited by shadows. A past that is whispered. A holed memory. The myth of Marianne Resistance fascinates only for a while before the reality of the camps and the Collaboration looms up with a grimace and provokes fright in us.How to talk about what happened? With what words to recount the story of the disappeared? This was the challenge for the post-Auschwitz society. This is the challenge of this course. Paris will be our anchor point. Capital witness, capital executioner, capital victim. Its streets and walls will whisper to us the stories that were confined between two brackets at the Liberation. It is these stories that we will try to catch on the fly to give them back shape and voice while we bend to the difficult exercise of remembrance. It goes without saying that the objective will not be to judge but to try to understand a past, a past that does not pass ... Assignments include weekly creative writings, translation of survivors' testimonies into English, research in the Archives de Paris and the French press of the time as well as digital mapping and the creation of a digital timeline (no previous skills in digital tools needed). The course is conducted entirely in French. Open to students with a solid advanced level.

Television and New Media
ENGL 1950
ARTH 1070
CIMS 1030
COML 1031

How and when do media become digital? What does digitization afford and what is lost as television and cinema become digitized? As lots of things around us turn digital, have we started telling stories, sharing experiences, and replaying memories differently? What has happened to television and life after New Media ? How have television audiences been transformed by algorithmic cultures of Netflix and Hulu? How have (social) media transformed socialities as ephemeral snaps and swiped intimacies become part of the "new" digital/phone cultures? This is an introductory survey course and we discuss a wide variety of media technologies and phenomena that include: cloud computing, Internet of Things, trolls, distribution platforms, optical fiber cables, surveillance tactics, social media, and race in cyberspace. We also examine emerging mobile phone cultures in the Global South and the environmental impact of digitization. Course activities include Tumblr blog posts and Instagram curations. The final project could take the form of either a critical essay (of 2000 words) or a media project.

Cultures of The Book
ENGL 1600

The impact of various technologies (from writing to various forms of manuscript to print to electronics) on the way the written word gives shape to a culture. The emphasis is on western cultures from Plato to the present, but participation by students with interest or expertise in non-western cultures will be of great value to the group as a whole. The course offers an ideal perspective from which students can consider meta-issues surrounding their own special interests in a wide variety of fields, as well as learn to think about the way in which traditional fields of study are linked by common inherited cultural practices and constructions. See the English Department's website at www.english.upenn.edu for a description of the current offerings.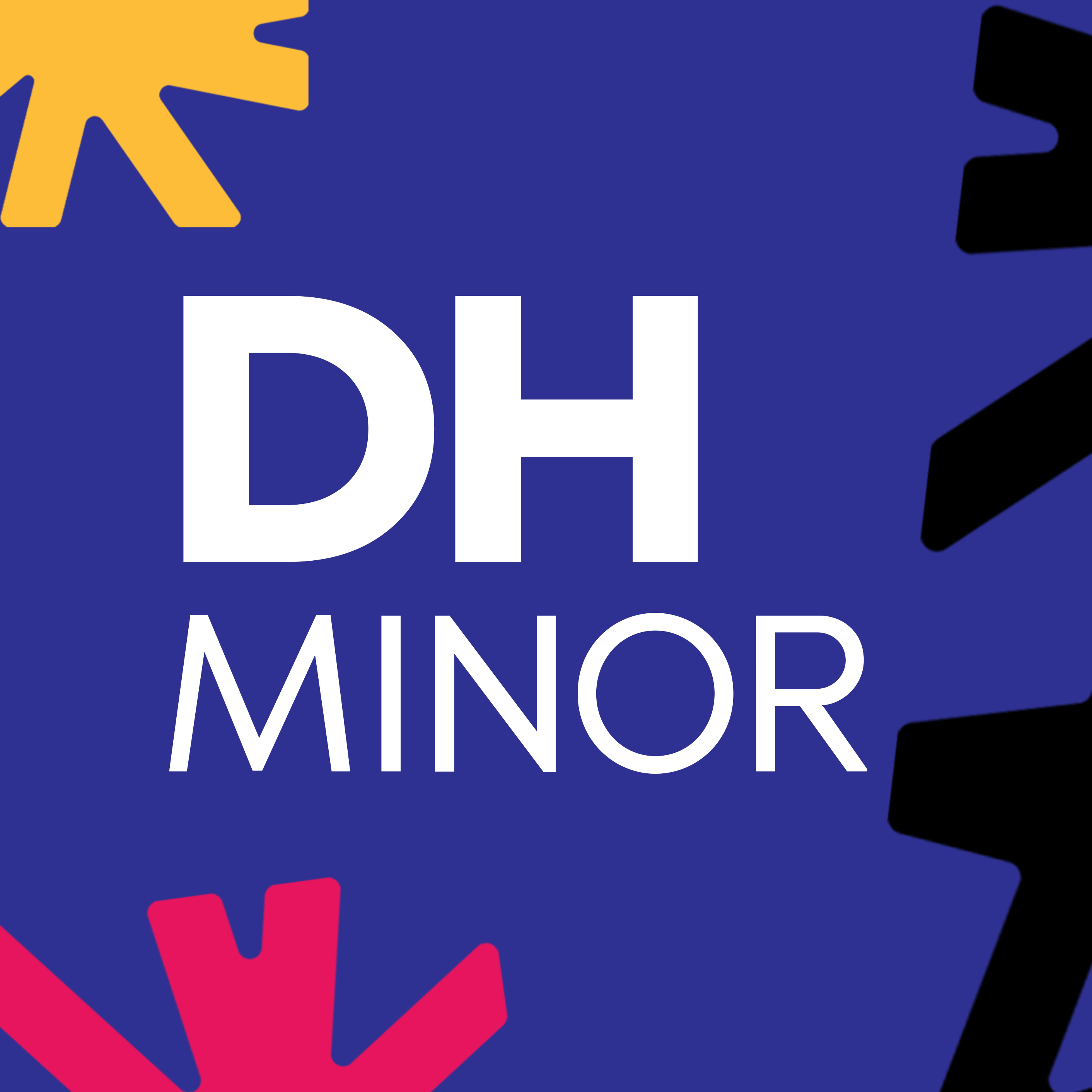 ---
The Digital Humanities Minor is directed by Stewart Varner in consultation with the Executive Committee of the Price Lab for Digital Humanities. Dr. Varner will also serve as the designated advisor for students interested in the program as well as those who have declared it. Please contact us to declare the DH Minor.

---
More information in the Penn Undergraduate Catalog and College of Arts and Sciences.