Digital Humanities Undergraduate Minor
ABOUT THE PROGRAM
The Undergraduate Minor in Digital Humanities is offered by the School of Arts and Sciences at the University of Pennsylvania. It has been designed for students who want to augment their disciplinary studies in the humanities or humanistic social sciences with advanced digital research techniques and in-depth engagement with theoretical, political, and practical questions raised by digital technologies.  Students from outside the humanities are also welcome to enroll in the DH minor, e.g. to add a humanities dimension to a mostly science-and-tech curriculum.
"Digital Humanities" is more of an umbrella term for a diverse range of scholarly practices than a stable, coherent field. The minor in digital humanities reflects that diversity by bringing together coursework from across the university and by allowing for multiple pathways through the program.  It is a very flexible minor that draws on faculty from many departments of the School of Arts and Sciences as well as other schools of the University and encourages students to enroll in courses outside of their major. Students minoring in digital humanities will have the opportunity to learn valuable programing and data management skills, to explore topics such as digital text analysis, digital mapping, 3D modeling, and the use of digital tools for collecting, organizing and studying material culture. Course work will also expose students to debates about the social effects of digital technologies and require them to attend lectures, workshops and other relevant events at Penn and around Philadelphia.
PURPOSE
Once a small corner of the humanities, Digital Humanities has exerted a notable influence on literary studies, history, cultural studies, archaeology and anthropology, and has radically changed the way that many scholars conduct research and share work. As humanities fields evolve to incorporate digital tools and methods, an increasing number of scholars are finding it necessary to expand their digital understanding. While students may be able to learn specific tools and methods on their own or through their coursework, the purpose of the DH minor is to offer them a systematic program of study as well as an official credential to recognize their work and training.  Students who successfully complete the requirements of the minor will develop the insight to be both thoughtful users of technology and sophisticated critics of digital work.
STRUCTURE
The Digital Humanities Minor will take 6 courses total and the sequence has is designed to guide students through three tiers of courses that begin very broad and then narrow in focus.
The first tier is the broadest and is intended to make sure students understand the basics of Digital Humanities. There are two required courses in Tier 1: Introduction to Digital Humanities (ENGL 1650) and one qualifying introduction to programing course. The School of Arts and sciences regularly offers Data Science for the Humanities (ENGL 1670) which has been designed to fulfil the programing requirement. However students may also count one of the introduction to programing courses offered by Engineering (such as CIS 1100). Skills and context learned in these courses will be used and built upon in subsequent courses.
In the second tier, students will choose at least one but not more than three classes that will help them focus on specific methodologies. The assumption is that students will want to dive a bit deeper into those specific trajectories within digital humanities that are most applicable to their own research interests. Courses in this tier will allow them to gain practical skills in a hands-on, project based environment.
While the first two tiers are focused on skill building, the third tier of courses gives students opportunities to use the skills they have learned to conduct original research. Students will take at least one but no more than three Tier 3 courses. Courses with significant digital content will be pre-approved for the minor. However, students may also work with their instructors to develop alternative digital projects or even independent studies. The goal at this level is for students to practice integrating digital humanities practice into academic work in non-trivial and critical ways.
BENEFITS
The Digital Humanities Minor has been designed to enhance the research profile of participating students and to give them the skills needed to participate more effectively in contemporary disciplinary and interdisciplinary scholarly debates. Furthermore, participation in the minor will help students develop valuable skills that may be utilized in a variety of professional settings both in and out of academia.
COURSES OFFERED FALL 2023
TIER 1

Introduction to Digital Humanities (COML 1650, ENGL 1650, HIST 0870)
Whitney Trettien & Cassandra Hradil
Course Description
This course provides an introduction to foundational skills common in digital humanities (DH). It covers a range of new technologies and methods and will empower scholars in literary studies and across humanities disciplines to take advantage of established and emerging digital research tools. Students will learn basic coding techniques that will enable them to work with a range data including literary texts and utilize techniques such as text mining, network analysis, and other computational approaches. See the English Department's website at www.english.upenn.edu for a description of the current offerings.
Section Details
Artificial intelligence, big data, and the internet of things are rapidly changing every aspect of our lives. The methods and questions of the humanities are critical to understanding these shifts. Run like a workshop, this course will explore various sites at Penn and around Philadelphia where humanists and artists are collaborating with scientists and engineers to solve the big problems facing our planet and our species. We'll visit museums and special collections in search of the future of past. We'll learn how scholars of race and gender are combating algorithmic bias in our search engines. And we'll meet librarians who are helping climate scientists save their data from politics. Students will gain hands-on experience with collaborating across disciplines and developing research questions in digital humanities. They will also acquire basic facility and literacy with key digital tools and platforms. Together, we will gain a critical, historical framework for understanding technology's impact on our lives. No prior coding experience is required. Coursework will involve regular in-class exercises, 4-6 short design exercises outside of class, and a portfolio of digital work.

TIER 2

Intro to Digital Archaeology (AAMW 5620, CLST 3307, ANTH 3307, NELC 3950, CLST 5620, ANTH 5220, section 401, CRN 66125)
Jason Herrmann
Course Description
Students in this course will be exposed to the broad spectrum of digital approaches in archaeology with an emphasis on fieldwork, through a survey of current literature and applied learning opportunities that focus on African American mortuary landscapes of greater Philadelphia. As an Academically Based Community Service (ABCS) course, we will work with stakeholders from cemetery companies, historic preservation advocacy groups, and members of the African Methodist Episcopal Church to collect data from three field sites. We will then use these data to reconstruct the original plans, untangle site taphonomy, and assess our results for each site. Our results will be examined within the broader constellation of threatened and lost African American burial grounds and our interpretations will be shared with community stakeholders using digital storytelling techniques. This course can count toward the minor in Digital Humanities, minor in Archaeological Science and the Graduate Certificate in Archaeological Science.

Advocacy in Emergent Technology, Digital Media and Society (COMM 6000, CRN 74656)
Desmond Upton Patton

Course Description
This course is designed to build a critical foundation for understanding the interplay of digital technologies and society and the important role of advocates in this space. Providing an overview of the history, students will investigate and critique contemporary emergent technologies in a social context, and explore their use in advocacy efforts. The course uses interactive lecture, discussion, readings, and guest speakers from technologists in the field.

Art, Design and Digital Culture (VLST 2640)
Staff

Course Description
This course is an introduction to the fundamental perception, representation, aesthetics, and design that shape today's visual culture. It addresses the way artists and designers create images; design with analog and digital tools; communicate, exchange, and express meaning over a broad range of media; and find their voices within the fabric of contemporary art, design, and visual culture. Emphasis is placed on building an extended form of visual literacy by studying and making images using a variety of representation techniques; learning to organize and structure two-dimenstional and three-dimensional space, and designing with time-based and procedural media. Students learn to develop an individual style of idea-generation, experimentation, iteration, and critique as part of their creative and critical responses to visual culture. If you need assistance registering for a closed section, please email the department at fnarug@design.upenn.edu

TIER 3

Fakes, Forgeries and Forensics in Digital Media (CIMS 2665, CRN 68655, ENGL 2665)
Elizabeth Scheyder
Course Description
Fake images on social media are just one of the latest examples of fabrications and modifications that have taken media into dubious territory throughout history. This course will analyze the history of fakes and forgeries and consider whether they devalue the original or not, or even have value in themselves. Along the way, students will learn how fakes and forgeries have been created, what tools can be used to counter the onslaught of illicit creations, and the arts and humanities debates that have arisen surrounding them. After evaluating the ways various media have been modified over time, this course will show students how to use photo manipulation tools to modify digital media. It will also show students how to perform various detailed analyses of digital media to determine their legitimacy. A final project will bring these tools together, as groups of students create a fake or forgery, consider its implications and evaluate a tool's ability to detect it.

Cultures of Surveillance (ANTH 3766, CRN 74731)
Staff
Course Description
Developments in digital technology have generated urgent political discussions about the pervasive role of surveillance in our everyday life, from the mundane to the exceptional. But surveillance has a much longer history. In this course, students will learn to think and write critically about the historical, socio-cultural, and political dynamics that define surveillance today. This course asks: how can we historicize what we call surveillance to understand its political and social implications beyond what appears in the document caches of the NSA or on a Black Mirror episode? What role does identity and identification play in surveillance? How do surveillance and computational technologies produce racializing effects? Students will apply course concepts to technologies of daily use, such as self-tracking devices like fit bits or identity documents, and reflect on debates surrounding race, policing, imperialism, and privacy. Through primary source materials, films, podcasts, and key texts, we will engage in a cross-cultural exploration of the multi-faceted phenomena of surveillance technology. Through regular writing assignments, such as surveillancediaries, students will analyze and articulate how they understand surveillance to operate in various domains of everyday life. In this course, students will: (1) Apply course concepts to their lived experience, from securitized architecture to search engines, in order to understand how surveillance operates in everyday life; (2) Analyze how historical context has shaped the current configuration of securitization and surveillance on a global scale; (3) Use ethnographic approaches to study the interaction between individuals, their social relations, and technologies of surveillance.

Television and New Media (ARTH 1070, COML 1031, ENGL 1950)
Staff
Course Description
How and when do media become digital? What does digitization afford and what is lost as television and cinema become digitized? As lots of things around us turn digital, have we started telling stories, sharing experiences, and replaying memories differently? What has happened to television and life after New Media ? How have television audiences been transformed by algorithmic cultures of Netflix and Hulu? How have (social) media transformed socialities as ephemeral snaps and swiped intimacies become part of the "new" digital/phone cultures? This is an introductory survey course and we discuss a wide variety of media technologies and phenomena that include: cloud computing, Internet of Things, trolls, distribution platforms, optical fiber cables, surveillance tactics, social media, and race in cyberspace. We also examine emerging mobile phone cultures in the Global South and the environmental impact of digitization. Course activities include Tumblr blog posts and Instagram curations. The final project could take the form of either a critical essay (of 2000 words) or a media project.

The History of the Information Age (SOCI 2951)
Staff
Course Description
We are said to live in an "information age." Information technologies have been credited with ushering in an era of unprecedented information creation, collection, storage, and communication. We experience the impact of this firsthand: these technologies increasingly pervade our homes, our workplaces, our schools, our most private spaces. But what exactly do we mean when we speak of the information age? When and how did it come into being? What developments—social, economic, political, or technological—made the digital world possible? How do these fit in the longer history of technology and society? And how is all this different from earlier eras? In this course, we explore these questions by looking to the history of information, information technologies, and information sciences, a history that long predates the digital computer. Although, at the center of our story will be the development of new information technologies—from the printing press and the telegraph to the computer and of course the Internet—our focus will not primarily be on machines, but on people and how individuals conceptualized, contributed to, made sense of, and dealt with the many transformational changes that have shaped the contours of our modern digital world. We will explore forms of identity, knowledge, and community that have emerged within this information age. Our goal will be to deepen historical perspectives and build analytical tools to critically evaluate the role of information in our increasingly digital world today.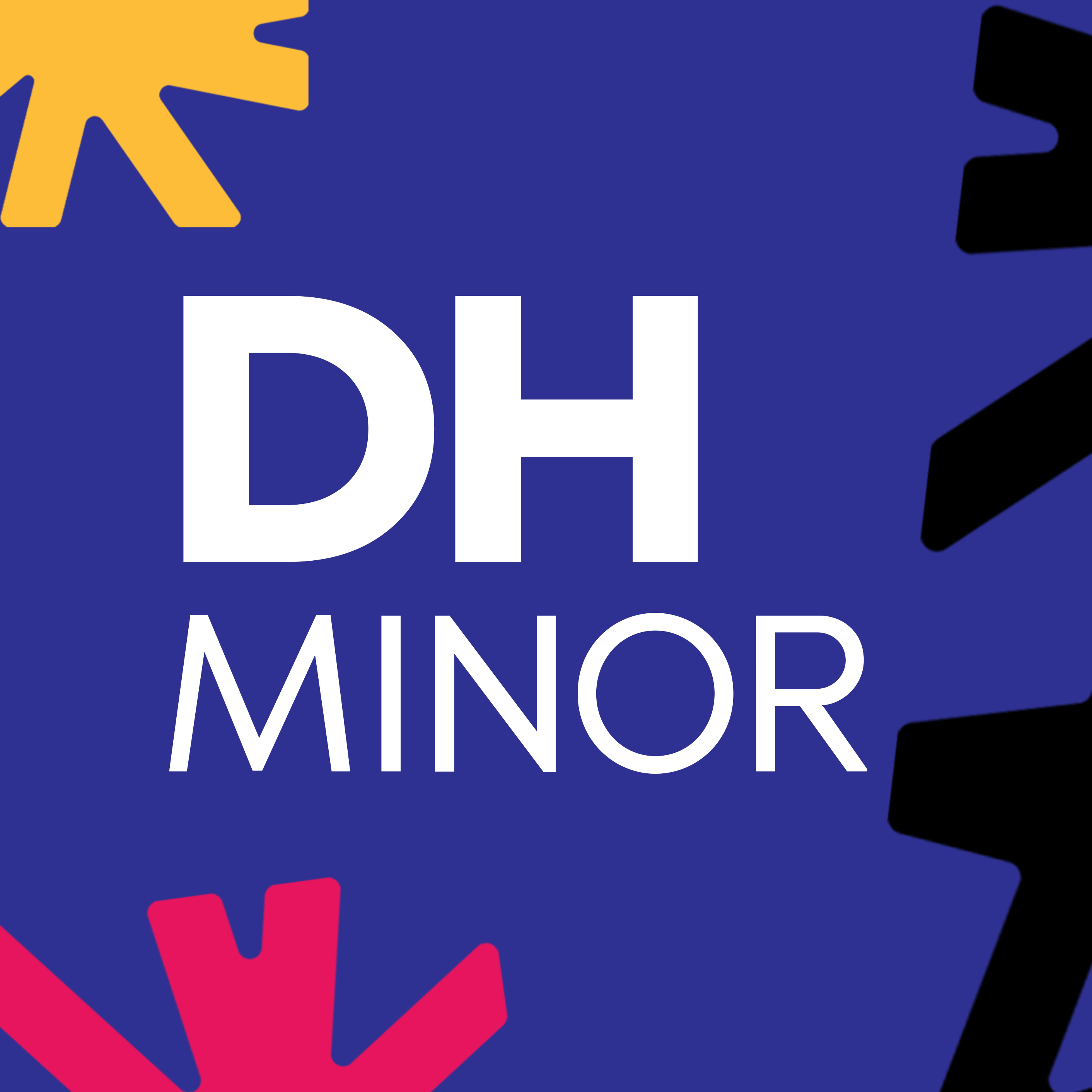 ---
The Digital Humanities Minor is directed by Stewart Varner in consultation with the Executive Committee of the Price Lab for Digital Humanities. Dr. Varner will also serve as the designated advisor for students interested in the program as well as those who have declared it. Please contact us to declare the DH Minor.

---
More information in the Penn Undergraduate Catalog and College of Arts and Sciences.