Digital Humanities Minor
ABOUT THE PROGRAM
The Undergraduate Minor in Digital Humanities is offered by the School of Arts and Sciences at the University of Pennsylvania. It has been designed for students who want to augment their disciplinary studies in the humanities or humanistic social sciences with advanced digital research techniques and in-depth engagement with theoretical, political, and practical questions raised by digital technologies.  Students from outside the humanities are also welcome to enroll in the DH minor, e.g. to add a humanities dimension to a mostly science-and-tech curriculum.
"Digital Humanities" is more of an umbrella term for a diverse range of scholarly practices than a stable, coherent field. The minor in digital humanities reflects that diversity by bringing together coursework from across the university and by allowing for multiple pathways through the program.  It is a very flexible minor that draws on faculty from many departments of the School of Arts and Sciences as well as other schools of the University and encourages students to enroll in courses outside of their major. Students minoring in digital humanities will have the opportunity to learn valuable programing and data management skills, to explore topics such as digital text analysis, digital mapping, 3D modeling, and the use of digital tools for collecting, organizing and studying material culture. Course work will also expose students to debates about the social effects of digital technologies and require them to attend lectures, workshops and other relevant events at Penn and around Philadelphia.
PURPOSE
Once a small corner of the humanities, Digital Humanities has exerted a notable influence on literary studies, history, cultural studies, archaeology and anthropology, and has radically changed the way that many scholars conduct research and share work. As humanities fields evolve to incorporate digital tools and methods, an increasing number of scholars are finding it necessary to expand their digital understanding. While students may be able to learn specific tools and methods on their own or through their coursework, the purpose of the DH minor is to offer them a systematic program of study as well as an official credential to recognize their work and training.  Students who successfully complete the requirements of the minor will develop the insight to be both thoughtful users of technology and sophisticated critics of digital work.
STRUCTURE
The Digital Humanities Minor will take 6 courses total and the sequence has is designed to guide students through three tiers of courses that begin very broad and then narrow in focus.
The first tier is the broadest and is intended to make sure students understand the basics of Digital Humanities. There are two required courses in Tier 1: Introduction to Digital Humanities and one qualifying introduction to programing course. The School of Arts and sciences regularly offers Data Science in Literature, History, and Culture which has been designed to fulfil the programing requirement. However students may also count one of the introduction to programing courses offered by Engineering (CIS 105 or CIS 110). Skills and context learned in these courses will be used and built upon in subsequent courses.
In the second tier, students will choose at least 1 but not more than 3 classes that will help them focus on specific methodologies. The assumption is that students will want to dive a bit deeper into those specific trajectories within digital humanities that are most applicable to their own research interests. Courses in this tier will allow them to gain practical skills in a hands-on, project based environment.
While the first two tiers are focused on skill building, the third tier of courses gives students opportunities to use the skills they have learned to conduct original research. Students will take at least one but no more than three Tier 3 courses. Courses with significant digital content will be pre-approved for the minor. However, students may also work with their instructors to develop alternative digital projects or even independent studies. The goal at this level is for students to practice integrating digital humanities practice into academic work in non-trivial and critical ways.
BENEFITS
The Digital Humanities Minor has been designed to enhance the research profile of participating students and to give them the skills needed to participate more effectively in contemporary disciplinary and interdisciplinary scholarly debates. Furthermore, participation in the minor will help students develop valuable skills that may be utilized in a variety of professional settings both in and out of academia.
Courses Offered Spring 2022
Tier 1
Data Science for the Humanities
ENGL-098-301
Instructor: J.D. Porter

Course description Over the last decade, humanists have turned to data and to computational methods of data analysis to seek new understandings of literature, history, and culture. This course will provide you with a practical introduction to data-driven inquiry in the humanities, with a focus on statistical analysis in the Python programming language. (No prior knowledge of programming is required or expected). In addition to learning foundational scripting and data science skills, we will ask questions about the role of data in the humanities. How does humanities data differ from data in the physical and social sciences? What new research questions in the humanities can we investigate using data-driven methods? And how can we make our conclusions relevant within the larger frame of humanistic inquiry? Course work will include readings, weekly programming exercises, and a final project.    

Introduction to Digital Humanities
ENGL-009-401 HIST-009-401 COML-009-401
Instructor: Whitney A Trettien

Course description: This course provides an introduction to foundational skills common in digital humanities (DH). It covers a range of new technologies and methods and will empower scholars in literary studies and across humanities disciplines to take advantage of established and emerging digital research tools. Students will learn basic coding techniques that will enable them to work with a range data including literary texts and utilize techniques such as text mining, network analysis, and other computational approaches.

Tier 3
Digital Platforms, Power, and Policy
COMM-290-301
Instructor: Pawel M Popiel

From Amazon to Uber, digital platforms play an increasingly central role in our society, including as public spheres, as political tools, as sources of entertainment and news, and as sites of commerce. At the same time, companies that operate these services face growing public scrutiny—the so-called "techlash"—for spreading hate speech and misinformation, undermining user privacy, algorithmic discrimination, exploiting workers, abusing their market power, and environmental destruction. The goal of this course is to provide clarity to the flurry of debates about platforms by critically examining: a) characteristics and definitions of platforms; b) their socio-political and economic influence; and c) the growing list of policy proposals to address that influence, including platforms' own policy initiatives. Drawing on news reports, policy proposals, scholarly research, and our own engagement with platform.
Environmental Media
ENGL-278-401 ARTH-292-401
Instructor: Rahul Mukherjee

Course description: Documents are written texts, evidence, inscriptions, and much more. Documentary films have been used to tell stories, share experiences, spread propaganda, resist exploitation, invoke memories, and much more. How can we think of information and meaning in relation to the shared histories of document and documentary? Database management systems based on digital technologies have technically transformed ways of classifying, storing, and aggregating data, but have they really changed our experiences of mediating with our past, present, and future? Issues of agency, memory, representation, performativity, interactivity, and posthumanism are entangled in discussions of databases and archives and our engagement with them. In this course we will relate and juxtapose readings connecting documents, documentaries, and archives. We will read media and cultural theorists such as Lisa Gitelman, Akira Lippit, and Wendy Chun alongside novelists like Franz Kafka and Ismail Kadare. Assignments include one assigned/selected report from field visits to libraries and museums, one reading presentation and blogging assignment, and a final paper or practice-based art project.

Paris during the German Occupation and its Places of (Non-)Memory History, Memory, Culture
FREN-225-301
Instructor: Mélanie Péron


This course explores the history of the dark years of the French collaboration with Nazi Germany during WWII. In the first part, it examines the rise of the myths of an "eternal France" and the "true French" promoted by Marechal Petain's National Revolution, as well as the myth of the resistance fighters that arose after the Liberation. The Holocaust and the holes left in national memory will hold a pivotal place in our reading of the national narrative. The second part of the course is dedicated to the study of literary works written by post-memory writers or survivors of the Holocaust who tried to fill in the blanks and confronted the linguistic challenge posed by Auschwitz. Paris will play a connecting role, as both witness to history and as tangible trace of the forgotten. This study of French history, its silences and (non-) memory will shed light on the legacy of the Occupation for contemporary France. Assessment consists of a semester-long creative writing project and a final oral exam. Reading assignments include works by Pierre Assouline, Marcel Cohen, Georges Didi-Huberman, David Foenkinos, Sarah Kofman, Marceline Loridan-Ivens, Patrick Modiano, Georges Perec. Given the limited number of spots, students will need a permit from the instructor. Please contact Melanie Peron to receive the questionnaire candidates must fill out. Pre-requisite: Two 200-level French courses taken at Penn or equivalent. Permit required.

Poetry, Music, and Sounds of the Twentieth Century
ENGL 210.303
instructor: Chris Mustazza
The twentieth century saw the rise and refinement of commercial sound recording, which gave rise to a proliferation of sound-based artistry. This course will examine the how music and poetry influenced each other throughout the century. We'll listen to blues and jazz poems alongside their namesakes, look at the influence of the Dadaists and Italian Futurists on the New Wave music of the 1980s, and discuss various songs modeled on poems and and vice versa. Along the way, we will listen to other key recordings that overlap with the poetry and music: sound art, sermon recordings, political radio speeches, and comedy monologues, for example. Our aim will be to trace a series of intersecting aesthetic lineages that lead into the current day. Key works will include poems by T.S. Eliot, James Weldon Johnson, Gertrude Stein, Adrienne Rich, Amiri Baraka, Sylvia Plath, Charles Bernstein, the Russian and Italian Futurists, Dadaists, the Beats. We'll encounter many genres of music, including: Tin Pan Alley musicals, ragtime, blues, doo wop, reggae, punk, pop, hip-hop, and more. In addition, you will learn some audio editing skills and will have the opportunity to make your own poetry-music remix. No experience with poetry or sound editing is required, only an interest in experimenting with sound.
Television and New Media
COML-099-402 ARTH-107-402 ENGL-078-402 CIMS-103-402
Instructor: William D Schmenner
 
Course description: How and when do media become digital? What does digitization afford and what is lost as television and cinema become digitized? As lots of things around us turn digital, have we started telling stories, sharing experiences, and replaying memories differently? What has happened to television and life after New Media ? How have television audiences been transformed by algorithmic cultures of Netflix and Hulu? How have (social) media transformed socialities as ephemeral snaps and swiped intimacies become part of the "new" digital/phone cultures? This is an introductory survey course and we discuss a wide variety of media technologies and phenomena that include: cloud computing, Internet of Things, trolls, distribution platforms, optical fiber cables, surveillance tactics, social media, and race in cyberspace. We also examine emerging mobile phone cultures in the Global South and the environmental impact of digitization. Course activities include Tumblr blog posts and Instagram curations. The final project could take the form of either a critical essay (of 2000 words) or a media project.tools, we'll learn to describe, assess, and critique platforms' power, to evaluate policy interventions, and to draft our own solutions.

Youth, Digital Culture and Online Harassment: A Participatory Research Workshop
COMM-356-301
Instructors: Sophie Jennifer & Josephine Maddocks

Course description: From trolling to cyber-bullying, online harassment has increased exponentially during the COVID-19 pandemic and it disproportionately impacts school-age youth. This ABCS course provides a hands-on opportunity for students to conduct community service and fieldwork investigating digital culture and online harassment. Over the course of the semester, students will review scholarship in Feminist Media Studies and Digital Inequalities, while undertaking participatory focus groups in partnership with students in a West Philadelphia school. In this course, students will merge theory with action through weekly seminars and fieldwork sessions. Together, our community of researchers will produce a collaborative report sharing original findings and evidence-based recommendations on how to prevent and address online harassment. This dynamic, hands-on course is perfect for students who want to tackle real-world communication issues, develop their research skills, and learn more about feminist Communication scholarship.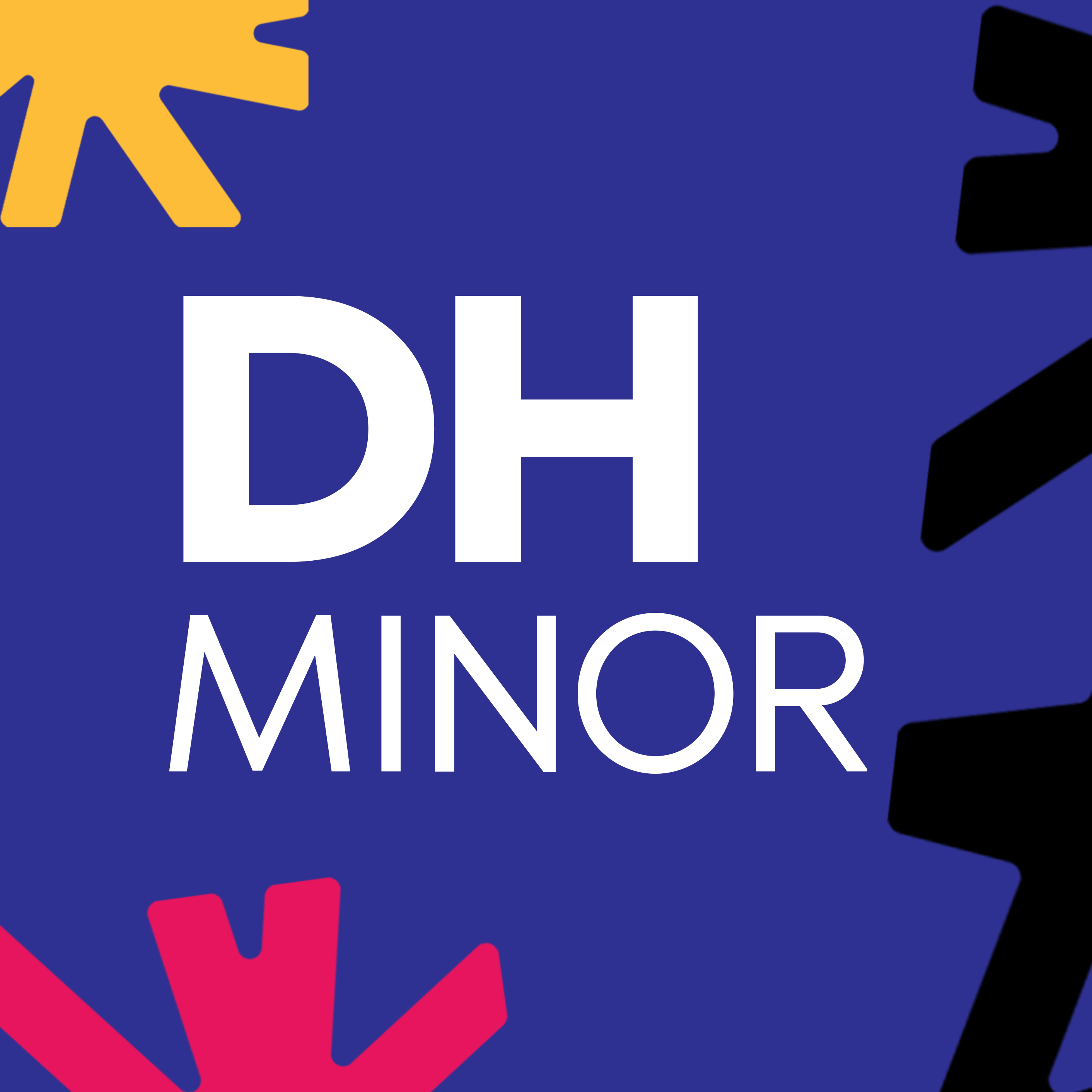 ---
The Digital Humanities Minor is directed by Stewart Varner in consultation with the Executive Committee of the Price Lab for Digital Humanities. Dr. Varner will also serve as the designated advisor for students interested in the program as well as those who have declared it. Please contact us to declare the DH Minor.

---
More information in the Penn Undergraduate Catalog and College of Arts and Sciences.