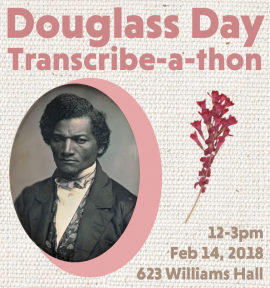 Douglass Day Transcribe-a-thon
February 14, 2018 -

12:00pm

—

3:00pm
Humanities Conference Room, 6th Floor Williams Hall, 255 South 36th Street
This Valentine's Day, we invite you to a birthday party for Frederick Douglass. Although Douglass was born into bondage, and never knew his birthdate, he chose to celebrate every year on February 14. We will commemorate his birthday by creating Black history together.
Douglass Day in 2018
This year we will be hosting a transcribe-a-thon on the Freedmen's Bureau Papers which has been organized by the Smithsonian Transcription Center and the National Museum of African American History and Culture.  We will meet on Wednesday, February 14th from 12-3pm EST to transcribe photographs of documents from the Freedmen's Bureau records.
The Freedmen's Bureau Transcription Project
The National Museum of African American History and Culture and the Smithsonian Transcription Center  are working to transcribe nearly 2 million image files from the Freedmen's Bureau records. The Transcription Center is a platform where digital volunteers can transcribe and review transcriptions of Smithsonian collections. 
The Freedmen's Bureau Transcription Project will allow anyone with internet access to research his or her family's history online. The Museum began this project in an effort to help African Americans discover their ancestors and help historians better understand the years following the Civil War.
History of the Freedmen's Bureau
Congress established the Bureau of Refugees, Freedmen and Abandoned Lands in 1865 to assist in the reconstruction of the South and to aid formerly enslaved individuals transition to freedom and citizenship. Administered by the War Department, the Bureau followed the department's war-inspired record-keeping system. These handwritten records include letters, labor contracts, lists of food rations issued, indentures of apprenticeship, marriage and hospital registers and census lists. They provide a unique view into the lives of newly freed individuals and the social conditions of the South after the war.
The Bureau was responsible for providing assistance to four million formerly enslaved individuals and hundreds of thousands of impoverished Southern whites. The Bureau provided food, clothing, medical care, and legal representation; promoted education; helped legalize marriages; and assisted African American soldiers and sailors in securing back pay, enlistment bounties, and pensions. In addition, the Bureau promoted a system of labor contracts to replace the slavery system and tried to settle freedmen and women on abandoned or confiscated land. The Bureau was also responsible for protecting freedmen and women from intimidation and assaults by Southern whites. The Bureau set up offices in major cities in the 15 Southern and border states and the District of Columbia. Under-funded by Congress and opposed by President Andrew Johnson, the Bureau only operated between 1865 and 1872.
The event will be streamed online in video. CCP members and NMAAHC/SI staff will be available to talk with you on Facebook and Twitter. Read more about the Colored Conventions Project and  The Freedmen's Bureau Records