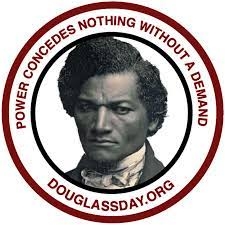 Featuring the correspondence of Frederick Douglass
February 14, 2024 -

12:00pm

—

3:00pm
RDDSx (first floor of Van Pelt Library)
Join us as we celebrate Frederick Douglass' Birthday by taking part in the annual Douglass Day Transcribe-a-thon event organized by the Center for Black Digital Research at Penn State
What is Douglass Day? 
Douglass Day is an annual holiday celebrated on February 14th, the chosen birthday of Frederick Douglass. As Douglass never knew his actual birthdate, his family chose Valentine's Day to commemorate his life. The holiday was established after Douglass' passing in 1895, when influential activist Mary Church Terrell proposed a national holiday to honor his legacy. Douglass Day events were widespread in the early 20th century and served as inspiration for the creation of Black History Month. In 2017, a group at the University of Delaware revived the holiday as an annual event to preserve Black history through collective actions, such as creating new resources for teaching and learning about Black history. All are welcome to participate and learn more about the history of Douglass Day, both distant and recent, by visiting https://douglassday.org/history-of-douglass-day. Between 2017-2023, Douglass Day has involved 24,450 people in 565 locations around the world.
What is a transcribe-a-thon? 
A transcribe-a-thon is an event in which a group of people work together to transcribe a collection of digitized historical materials. The primary goal of a transcribe-a-thon is to make the materials more easily accessible, but these events also serve to promote awareness of parts of Black history – and especially Black women's history – that remain too-little-known. Transcribe-a-thons can take place at in-person events. Many people organize virtual gatherings. The experience of taking part in a transcribe-a-thon can transform us from consumers of history into knowledge producers–a collective action for saving and expanding Black history together!