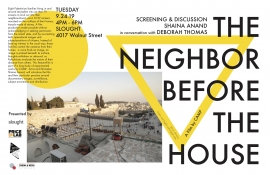 Shaina Anand (CAMP): The Neighbour Before the House
2012, 60 mins, Arabic and English with English subtitles
September 24, 2019 - 4:00pm
Slought, 4017 Walnut Street.
Eight Palestinian families living in and around Jerusalem city use their TV screens to look out into their neighbourhood, via a CCTV camera mounted on the rooftops of their homes, tripods made of stones. A film production made possible without acknowledging or seeking permission from the Israeli state, and by re-orienting both operational images and subject-positions of citizens. Instead of bearing witness in the usual way, these families control the cameras from their homes;  a voice finds an image, an image is probed beneath its surface, thoughts withdraw or rebound, as Palestinians evaluate the nature of their distance from others. This feature-film is part of a long body of experimental works by CAMP.  Artist and filmmaker Shaina Anand, will introduce the film and their particular practice around documentary images, surveillance, subject awareness and distribution.
Shaina Anand (b. 1975) is a filmmaker and artist who has been working independently in film and video since 2001, and since 2007 as CAMP, a Mumbai-based studio for transdisciplinary media practices, which she co-founded with Ashok Sukumaran. CAMP's provocative, ethnographic work in video and film, electronic media and public art forms over the past decade have shown how deep technical experimentation and artistic form can meet while extracting new qualities and experiences from contemporary life and materials.  
Their artistic work has been exhibited internationally, including at film venues such as the Flaherty seminar, the BFI London Film Festival, the Viennale and Anthology Film Archives, and in art contexts such as the Biennials of  Liverpool, Sharjah, Kochi-Muziris, Gwangju, Taipei and Shanghai, the Tate Modern, MoMA and Ars Electronica, Documenta 13 in Kassel and Kabul, the Kiemena project at Documenta 14, and the 2017 edition of the Skulptur Projekte Münster. From their home base in Chuim village, Mumbai they run the online archives 
https://Pad.ma
 and 
https://Indiancine.ma
, and the community space R and R, among other activities including their long-running rooftop cinema. Shaina is also founding trustee of The Indian Cinema Foundation and curator of THE NEW MEDIUM, at the Mumbai Film Festival.