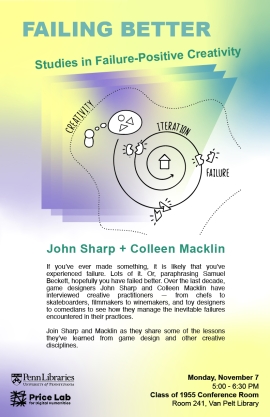 Failing Better: Studies in Failure-Positive Creativity
Colleen Macklin & John Sharp
November 7, 2022 - 5:00pm
Class of 1955 Conf. Room, 2nd Floor, Van Pelt-Dietrich Library Center
Failure—the real F word if ever there was one—is a topic seldom discussed. If you've ever made something, it is likely that you've experienced failure. Lots of it. Or, paraphrasing Samuel Beckett, hopefully you have failed better. Over the last decade, game designers John Sharp and Colleen Macklin have interviewed creative practitioners—from chefs to skateboarders, filmmakers to winemakers, and toy designers to comedians to see how they manage the inevitable failures encountered in their practices. Join Sharp and Macklin as they share some of the lessons they've learned from game design and other creative disciplines. Because while everyone fails, some do it better. Because without failure, we wouldn't have a lot of other things we value: creativity, learning, and play, to name a few. 
Colleen Macklin is a game designer and Associate Professor in the school of Art, Media and Technology at Parsons School of Design. In 2006 she founded PETLab (Prototyping Education and Technology Lab), a lab that has developed games based on real-world systems, from activist histories to the mechanics of debt. Colleen is currently working on a game about cloudspotting with an eccentric cast of AI-generated characters and a book project exploring speculative game design at the end of the world.
John Sharp is the Professor of Games and Learning in the School of Art, Media and Technology at Parsons The New School for Design. His research focuses on game and play aesthetics, pedagogies of creative practice, and the intersections of ethics and aesthetics. John is the author of Works of Game: On the Aesthetics of Game and Art (2015), and Fun, Taste, & Games: An Aesthetics for the Idle, Unproductive, and Otherwise Playful (2019) with David Thomas. John is currently working on a socially-centered creative research methodology with social practice artist Nancy Nowacek.
Together, they are members of the game design collective Local No. 12, makers of the card game The Metagame (2015), and the videogame, Dear Reader (2019). They coauthored the books Games, Design and Play: A detailed look at iterative game design (2016) and Iterate: Ten Lessons in Design and Failure (2019). Colleen and John have co-directed PETLab since 2012.