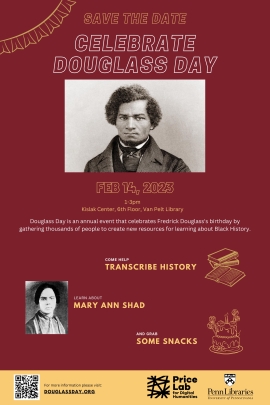 A collective day of love & action for Black history!
February 14, 2023 - 12:00pm
The Kislak Center, 6th floor of Van Pelt Library
Every Valentine's Day, we invite you to a birthday party for Frederick Douglass. Although Douglass never knew his birthdate, he chose to celebrate every year on February 14th. We celebrate this date as a moment for creating Black history together by hosting a transcribe-a-thon.


What is Douglass Day?
Douglass Day is an annual program that marks the birth of Frederick Douglass. Each year, we gather thousands of people to help create new & freely available resources for learning about Black history. We frequently focus on important Black women's archives, such as Anna Julia Cooper (2020), Mary Church Terrell (2021), and plenty more to come in future years. Learn more about the history of Douglass Day.
See our Douglass Day pages for 2017, 2018, 2019, 2020, 2021, and 2022.
What is a transcribe-a-thon?
Transcribe-a-thons are events in which people gather together to work side-by-side on a crowdsourcing transcription project. We feature a different project each year. We always try to have food, music, and a fun time! Want to hold a transcribe-a-thon? Our program team prepares a set of plans and resources each year to help you bring Douglass Day to your group, school, or community. Free and open to all! 
What are we going to transcribe this year?
The papers of Mary Ann Shadd Cary, an American-Canadian anti-slavery activist, journalist, publisher, teacher, and lawyer who lived from 1823 until 1893.
Can I participate in Douglass Day 2023 virtually?
Yes! Penn is not coordinating a virtual version but you can sign up to participate virtually as an individual HERE.
Who is behind Douglass Day?
Douglass Day is made possible by a large number of partners and supporters. They include: The Center for Black Digital Research at Penn State, the Colored Conventions Project, the Anna Julia Cooper Digital Project, the Moorland-Spingarn Research Center at Howard University, the Princeton University Center for Digital Humanities, the PSU Libraries, the PSU Center for Humanities and Information, and the PSU College of Liberal Arts, the American Studies Association for a Community Partnership Grant, Zooniverse, and By The People at the Library of Congress.
Douglass Day at Penn is hosted by Penn Libraries and the Price Lab for Digital Humanities.